Heart and Hand: A Transformational Yogic Journey to Nicaragua
only 1 spot left! (one private room)
Yoga + Adventure + Service

with Karen Macklin and Laurie Sleep
April 23-May 1, 2016
Join us for our second Heart and Hand yoga retreat! Our retreats combine mindfulness, compassion, and action in amazing corners of the globe. On this unique trip to Nicaragua, you'll have the opportunity to immerse yourself in yogic practices, experience the beauty of this amazing country and its people, and offer your services to the local community. It's a unique opportunity not to be missed! 
Our Adventure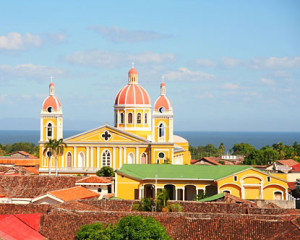 The trip begins in the historical, picturesque city of Granada, where we'll spend two and a half days sightseeing and working with La Esperanza Granada, a nonprofit organization that assists in improving education for the underserved communities in Granada. We'll have the opportunity to meet local residents and offer our time to a meaningful community volunteer project. We'll also practice yoga and meditation daily, enjoy local restaurants and nightlife, and engage in cultural activities. Next, we'll head to Aqua Wellness Resort, a first-class yoga retreat center that sits on the jaw-dropping Emerald Coast of the Redonda Bay.  At Aqua, we'll delve more deeply into our yoga practices, eat delicious local food, and take part in water and other outdoor activities on and around the bay.
Yoga and Meditation
We'll practice yoga and meditation daily. Yoga will be geared toward all levels; newer practitioners will have the opportunity to learn the basics of yoga, while more advanced practitioners will have the opportunity to take their practices to new depths. There will be silent periods observed during the mornings.
Karen's classes are spacious, rhythmic flows that focus on building prana, concentration, and strength, and offer an opportunity to move into a space of meditation and inquiry.
Laurie's classes are carefully sequenced alignment-based flow classes that focus on creating mindfulness through movement.

Pricing 
During our 3 nights in Granada, we will stay at a quaint local hotel near the city center. For our 5 nights at Aqua Wellness, we will be staying  in luxury treehouses (sleeping high up!) at a first-class yoga retreat center. For both, you can choose from a single or a shared room. Space is limited, so register as soon as possible! Here are the pricing options, per person:
Current prices until Dec. 31 are: 
$1995 per person for shared room; $2395 for single room

After Dec. 31, prices will go up $100/month, maxing at:  
$2195 per person for shared room; $2595 for single room

 A 50% deposit secures your spot! Those desiring the early bird price must pay the FULL AMOUNT by January 23. All others must pay the full amount by March 1. All payments are non-refundable.
 

Included in the price:
All accommodations in Granada and at the retreat center
Group ground transportation, including airport shuttles
Delicious vegetarian meals at Aqua Wellness Resort
Breakfasts in Granada
A donation to La Esperanza Granada
All cultural activities in Granada
One half-hour specialty Aqua massage

Gear for water sports, including kayaks, stand-up paddleboards, boogie boards, & snorkels/fins
Two yoga classes per day, with teachings based on the principles of compassionate view and compassionate action
Meditation instruction, yoga nidra, and reflective writing exercises
A beautiful guided nature hike.
A closing bonfire on the beach!
Not included in the price:
Air travel (though we can help suggest flights – prices start at $800 from California if you book soon!)
Lunch and dinner in Granada for 2.5 days (We'll be hitting the town! Meal prices are modest, ranging from $10-$20 each depending on what you order)
Additional optional activities at the lake, which may include surf or stand-up paddleboard lessons and eco-adventures, depending on the group's interest
Massage and spa services at Aqua, as well as gratuities for staff, if you choose to leave them
Ground transportation to/from airport if you arrive or leave Nicaragua earlier or later than the days and times for which we arrange the transportation.
Queries and Registration
Please contact us at  karenmacklin@hotmail.com or lauriesleep@gmail.com to check on room availability, find out more information, or make a reservation.
For payment, you may pay with:
1. Check or cash. Simply hand or mail one of us a check, or bring cash to class! Email us if you need a mailing address.
2. Paypal (please add a 3.5% processing fee). To pay via PayPal, simply Paypal the funds to hearthand2016@gmail.com.
3. Credit Card (please add a 3.5% processing fee). To pay via credit card, email Karen or Laurie and they'll take your payment by phone using the Square app.
About Us
Karen Macklin (ERYT-500) has been studying yoga and meditation since 2000, and has received training in the traditions of Iyengar, Ashtanga, Restorative, Shadow Yoga, and AcroYoga, as well as in various forms of Buddhist meditation. She teaches with an emphasis on building internal strength, creating mindfulness, and establishing a deep connection with the energetic body. Her classes are strong but slow, rhythmic flows that both challenge students and offer them an opportunity to enter a space of meditation and inquiry. Karen also writes about yoga and has contributed to Yoga Journal, Yoga International, FitYoga, and Tricycle.
Laurie Sleep (ERYT-500) began regularly practicing yoga to help manage a chronic injury and got hooked on both the physical and mental benefits. She earned her 200- and 300-hour certifications through YogaWorks in New York, apprenticing with Jeanmarie Paolillo. Laurie's classes combine flowing sequences with careful attention to alignment, creating a warm and encouraging, but challenging, environment for students of all levels. An avid hiker and backpacker, Laurie also incorporates her love of nature and being outside into outdoor yoga experiences such as Hiking Yoga.
About Granada and Aqua Wellness Resort
With year-round warm weather, hospitable locals, colonial-era architecture and the freshwater of Lake Nicaragua, Granada is a popular destination for travelers from all parts of the globe. Aqua Wellness Resort is situated in a lush tropical forest natural setting within a private beach cove on the Nicaragua's 'Emerald Coast', on the Pacific just north of Costa Rica. A secluded and peaceful natural setting, it's perfect for yoga practice, relaxation, contemplative walks, kayaking, hiking, surfing and lounging. Aqua received a certificate of excellence from Trip Advisor in 2015, and has been written about extensively in magazines and on well-reputed travel sites.